Sayulita, Mexico ~  March 26 to April 1st, 2017
        (Arrive Sunday evening, depart Saturday afternoon)
       Come join us for a wonderful six-day yoga retreat in tropical Mexico that will strengthen your yoga practice and will deepen your sense of personal empowerment. Will's skill in blending heart themes into each class enlivens the retreat and makes each session unique and powerful. With over sixteen years of teaching experience Will masterfully shapes your attitude and alignment into beautiful action. He will keep you inspired and openhearted while expanding your power through progressive yoga sequences and a cultivated connection to Grace.
     Anusara® yoga's exquisite alignment principles come alive as you explore each in a deep way, both on and off the mat. The beautiful Mexican tropics and warmth of the people makes for a perfect setting for yoga practice, meditation and enjoying the vibrant shops, restaurants and beach life. Will and his wife Bridget welcome you in and quickly build a community that will make you feel at home and part of a yogic family.
      A $200 deposit will hold your spot. Sign up early as space is limited. Cut your costs by sharing a room.
Treat yourself to an exceptional vacation with exceptional people

Deepen your understanding of an alignment-based practice

Learn to be at ease as you strengthen your inner power

Practice yoga in an awesome and inspiring setting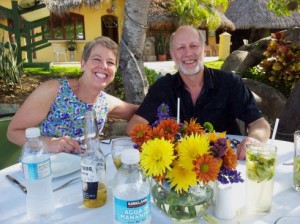 ~ * ~   
       Our home base of Hotelito Los Sueños is located in a quiet neighborhood of Sayulita.  This "little dream hotel" is a restful yoga-oriented hotel that is full of vibrant spirit energy, facilitating deep relaxation and healing on all levels.
       It's restful setting includes a breezy yoga studio, swimming pool,  juice bar, roof-top open patio, free use of bicycles, Wi-Fi, air conditioned rooms, free international long distance calling, on-site massage! ….  All this in a quiet and safe neighborhood  just a couple blocks from the beach!



 
Daily activity centers around morning meditation and a 75-minute yoga asana class followed by a group breakfast.  
Afternoons are free for frolicking on the beach, trying out the many yummy restaurants, sunbathing, walks and shopping.
Evenings include meditation followed by a low-impact yoga class.  Optional late-night yoga will be scheduled for the die-hard yogis (like me!) who love taking advantage of the tropical heat and extra energy for opening up to a strong flowing late-night practice.
                   ~ * ~
    Sayulita is a safe and exceptional Mexican community. In all my years of travel and study in Mexico I have not found a more accommodating place for a retreat and get-away.  It has the amount of relaxed Mexican culture I prefer and the genuine warmth of a healthy community that makes visitors feel welcome and safe. This community is known for its laid-back pace, tropical beach life, and a harmonious blend of Mexican and ex-pat culture.  The variety of restaurants and shops make exploring the town–just a short five minute stroll away–a fun way to shop and dine out.  Sayulita is a pleasant getaway that will make you feel that relaxation is actually achievable!
      The pace of the yoga classes are designed to sequence you into deeper levels of connection, steadiness, and pleasure!  No hurried or rushed poses; rather a deepening into what makes poses pleasurable and inviting of more radiant expression.  All levels of experience will find delight in our practice.
     I hope you can join our journey of exploration!
                                               Namaste,
                                                                Will 

  Specifics:   
Single attendance pricing starts at … $1,129
…..(one person, single room)
Two people sharing a single room  …$1,704  
Two people sharing a suite  …………..$2,025
 Save money by sharing a room; see details below.
Price includes:
•  Round-trip airport transportation
•  Room for 6 nights
•  Arrival dinner and 6 breakfasts
•  Two daily meditations and yoga classes
….(all attendance optional)
•  Hotel features: Quite location 2 blocks from the beach, WiFi, A/C, pool, yoga studio, juice par, beach supplies, bicycles, free international phone,  5 blocks to downtown
Prices do not include airfare or gratuities.
Payment installments are acceptable.
 Retreat cost:

$575

 

Room options :


…

(Add $575 retreat cost per person, then add the room rate.

…

Save by sharing the room cost.)


..


Premium     (1 queen bed, fridge)

Premium Plus

   (1 queen bed, 1 twin, fridge)

$554

$594

Superior   ( 1 double bed, 1 twin, kitchenette, sitting area)
 $684
Suite (2 queen beds, balcony, kitchenette)
 $874

Villa

  ( 2 bedrooms, one with king bed,  one with a full and a twin bed; full kitchen; living room)
 $1,074
Click on the link below to go to the hotel website and view the rooms and venue. Note that you do not register for a room at the hotel site.
 The hotel offers 10% off of your room cost for any extra nights booked after the retreat, plus a group special promotion of an hour massage for $50.
A $200 deposit will hold your space!
Payment Plans available.
   

Please feel free to call or write with your questions:    
wjddoran@gmail.com ~  206 861-2775  
Will and Bridget's flight info:
Leave Seattle on Alaska #206 at 9:58 am, arrive 3:36 pm
Leave  PVR on Alaska #223 to San Fran. at 3:25 pm,
SF to  SEA on Alaska #247 at 7:35 pm,  arrive at 9:30 pm
   Approximate daily schedule:
7:00 PM …… Sunday May 1st orientation group dinner
7:30 AM …..  Morning meditation
7:55 am …. Coffee break
8:10 AM ….. Yoga Class
9:30 AM ….. Group Breakfast
Mid-day open for going to the beach, shopping, exploring, relaxing at the hotel.  Lunch and dinner on your own. Sayulita has many great dining options!
 7:30 PM …. Evening Meditation and Yoga Class
Classes will be structured around the energy level of the group; morning classes are more energetic and evening classes are designed to be more restorative. It is acceptable to pass on any class should you desire.  
.
.
.
.
.
.
.
.
.
.
..