Will is a highly skilled specialist in helping people align their
body, mind and spirit

with their passions and life desires.  He will teach you the art of

strength, flexibility and balance

–both on the mat and off.  He has professional certifications as a Personal Life Coach and as a Yoga Instructor.  Drawing on these, and a deep well of experience, he brings out the inner wisdom of those he serves.  You will strengthen your confidence and power in all levels of your

relationships, work and creativity

.  Will's personalized support is designed to empower you with clarity and confidence so you will achieve the goals and quality of life you desire.
         The service and instruction he offers is very personal and customized to your needs. Will helps people learn to align with their total being so as to bring in more joy, vibrancy and fulfillment.   Whether in a coaching session face-to-face or over the phone, or on a yoga mat,  his guidance will help transform your life for the better.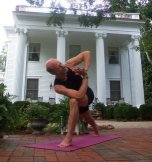 My offer to you is unparalleled personal support assisting you into your next and brightest place of being.  As a facilitator for growth and transformation I bring many years of expertise as a life coach and yoga instructor.  In a light-hearted and compassionate way I can help you reshape your experience with life and bring vibrancy into all aspects of your being.
Things I've helped my clients achieve:
Get clear and focused on what next steps to take.

Find new careers.

Leave stagnant jobs and find new and fulfilling work.

Find true love and get married.

Find strength and hope while parenting the challenging child.

Set and maintain boundaries with family members.

Move to a foreign land.

Create ways to explore the roots of spirituality in everyday life.

Face the day-to-day workload with centered grace.

Lighten up and enjoy life.

Harness and channel their personal power.

Contact Information
Will Doran
9537 1st Avenue NW,
Seattle, WA 98117-2006
E-mail:
wjddoran@comcast.net
Phone
: (206) 861-2775