….~ Certified Anusara® Yoga Teacher, E-RYT 500
….~ Certified Professional Life Coach
….~Yoga, Meditation and Stress Reduction Workshops
      My passion and joy is being part of the movement of expanding human consciousness.  I help individuals, work forces, and members of society live in a state of health, vibrancy and optimal performance.  With certifications as both a Yoga Instructor and as a Life Coach I use my training to facilitate transformation on a deep and personal level. This work is done on the yoga mat as well as off, in personalized one-one-one sessions, or in group settings. I use a light-hearted yet powerful approach to help you or your group release stress, find more ease  and vibrancy in life, and heal physical or emotional conditions.

       As a Certified Anusara Yoga Teacher  (click for schedule) I  have extensive experience in teaching yoga, meditation, and physical alignment.  I work with both individuals and groups to create an experience of a deep centering of being and balance between physical, emotional and spiritual health.  Regardless of physical condition, each individual can learn to move and feel more free, and develop strength of body and character.  My professional service is to help you, or your group, explore the art and practice of yoga in a safe and inspirational way.  The Anusara method is noted for its ability to develop a high quality of heart and a sound and vibrant body.

    

I am currently serving as the USA Regional Representative for the international Anusara School of Hatha Yoga.
        My work as a Certified Professional Life Coach  (click for information)  is to be a deeply personal support that will help you reach your goals and aspirations, whether they be inner-growth, task achievement, gaining clarity and insight, or looking to bring more sacred space into your life.  My coaching is empowered by my deep sensitivity to others and a highly intuitive ability to connect on a deeply personal and compassionate level.  I apply the time-honored principles of yogic philosophy that unify the individual on all levels so as to connect to the inner source of power and effectiveness.  Change and transformation skills are taught that will last a lifetime and will make your life journey one of constant discovery, success and celebration.
       As a  leader of  

Yoga, Meditation, and Stress Reduction workshops

 (click for information) I teach groups alternative strategies for reducing stress and augmenting health.  I weave the wisdom of time-honored yoga techniques into a formula that Westerners can easily apply.  My workshops are both light-hearted and powerful; they provide tools that can be applied immediately for a greater sense of ease, harmony in the work-place, and improved communication.  I currently teach a quarterly Stress Management Through Yoga  workshop for
King County

  government. (References available upon request.) I am available to bring my powerful skills in created reduced stress and healthy living to your organization.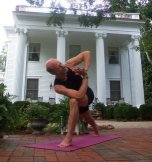 My offer to you is unparalleled personal support assisting you into your next and brightest place of being.  As a facilitator for growth and transformation I bring many years of expertise as a life coach and yoga instructor.  In a light-hearted and compassionate way I can help you reshape your experience with life and bring vibrancy into all aspects of your being.
 

Things I've helped my clients achieve:
Get clear and focused on what next steps to take.

Work through health issues with an optimal healing attitude.

Find new careers.

Leave stagnant jobs and find new and fulfilling work.

Find true love and get married.

Find strength and hope while parenting the challenging child.

Set and maintain boundaries with family members.

Move to a foreign land.

Create ways to explore the roots of spirituality in everyday life.

Face the day-to-day workload with centered grace.

Lighten up and enjoy life.

Harness and channel their personal power.

          Feel free to contact me with any questions you may have, I'd love to answer them.
Contact Information
Will Doran
9537 1st Avenue NW,
Seattle, WA 98117-2006
E-mail:
will@theyogacoach.com
Phone: (206) 861-2775
,
,
,
,
,
,
,
,
,
,
,
,
,
,
,
,